Posted on July 16th, 2019 at 9:00 AM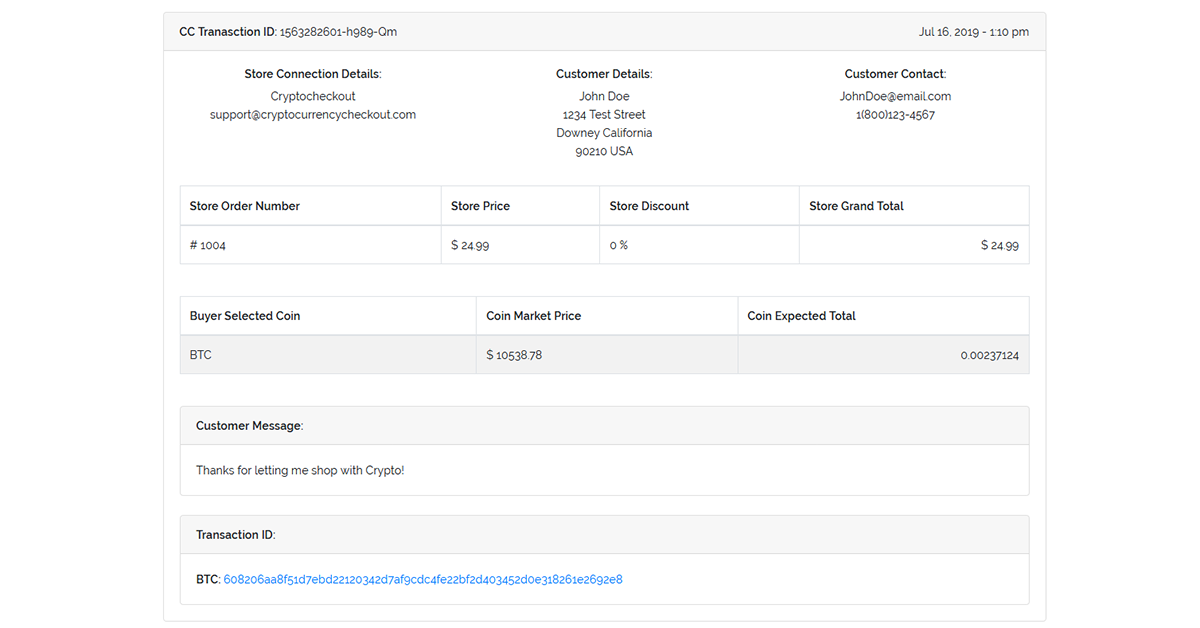 ---
Latest Updates & Features - Version: 1.0
---
Detailed Transaction Receipts Release:
We have just released our Detailed Transaction Receipts.
This feature will provide sellers with additional details about their transactions inside their dashboard, including:
Additional Customer Details:
Order Number or Product ID passed from store.
Order Sub-Total Passed from store.
Additional Markup/Discounts given inside CryptocurrencyCheckout.
Order Grand-Total after any Discounts or Markup Prices added/subtracted.
Customer Message/Note (Useful for both Stores and Streamers.)
Additional Coin Details:
Coin Payment Type Selected
Market Price of Coin at time of Purchase.
Amount of Coins expected from the Buyer.
Transaction ID and Block Explorer Link.
The combination of the above also provides all neccesary information for stores to use when filing taxes for crypto related sales. (In most countries.)
Those details being:
What Cryptocurrency the store/user received.
How many coins the store received at that time.
And how much those coins were worth in fiat value at the time of receiving.
These details would provide the store/user with their initial set value at receiving.
and then at the end of the year the store would add/subtract whatever additional capital gains/losses they had from above or below this value.
---
Collect Buyer Info Feature Release:
The "Detailed Transaction Receipts" feature above also provides the last piece to fully enable our "Collect Buyer Info" Feature.
Now when enabled will allow you to use our platform to fully collect all buyer details for orders where you'll need to ship a physical product.
Collecting Details Such as:
Buyer Name
Buyer Email
Buyer Phone Number
Buyer Address
Buyer State/Province
Buyer Postal Code
Buyer Country
This feature is completely optional, and is only intended for stores/users who do not have a shopping cart/checkout process built into their websites.
As this is particularly useful when a store wants to use our platform as not just a Payment Gateway, but an entire Checkout Process for their store/website. Allowing users with very basic HTML websites that are using our checkout buttons, to use our platform as their websites entire checkout process for crypto. Removing the need for a shopping cart, or checkout page on their website.
This feature could also be useful for our users that are using our invoicing platform.
Or in any case where they might want/need their buyer/donator to provide additional details for shipping goods.
---
Found any Bugs? Want to integrate? or have any suggestions for our project?
Contact Us
Thanks, and have a good day!